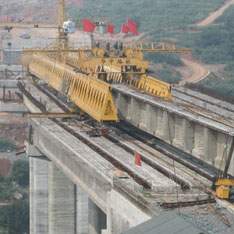 Bridge Construction Machinery
Bridge construction technology has evolved over the years. In this age of advanced science, technology and machines, bridges have undergone various changes and different types of bridges are being constructed in major countries of the world. Construction techniques like slurry walls, post-tensioning, soil freezing, reinforced earth walls, suspension, folding etc. are being used. Bridge construction is changing. New construction techniques and new materials are emerging and accordingly the construction machinery industry has played a pivotal role in the overall development of bridge construction.
Types of Bridge Construction Machines
The machineries that are utilized for the construction of bridge are :
BossBuyer Co.,Ltd is a specially authorized foreign trade corporation. The corporation's main business is machinery export, include construction machinery, crane machinery, mining machinery, etc. We supplies Bridge Construction Machines for sale and we have exported Bridge Construction Machines to many countries.
Contact E-Mail : sales@bossbuyer.com
Relative Products

How to Contact Us
Email: sales@bossbuyer.com
Skype: bossbuyer
Market Hotline
0086-21-61435-919
Service Hotline:
0086-21-61435-919