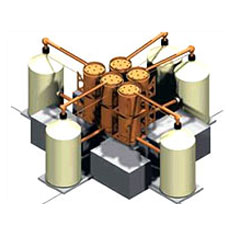 Tunnels Construction Machinery
In modern world tunnels are excavated for various purposes like laying pipes, building underground railways, mining operations, for multipurpose hydel projects etc. Tunnel excavation requires lots of technical skills and sophisticated machineries. Construction of tunnels is done using materials varying from soft clay to hard rock. There are many factors on which the method of tunnel construction depends on. These are like the ground water conditions, ground conditions, the diameter and length of the tunnel drive, the tunnel depth, the logistics of supporting the tunnel excavation, and most important of all the final use and shape of the tunnel and risk management.
Usually tunnels are of three types:
Cut and cover tunnels: These are constructed in a shallow trench. These are then covered.
Bored tunnels: These are constructed without removing the ground above and are in circular or horseshoe cross-section.
Immersed tube tunnels: These tunnels are floated into a body of water or are buried just under its bed.
Types of Tunnels Construction Machines
For tunnel excavation lot of machineries are available, which are as follows:
BossBuyer Co.,Ltd is a specially authorized foreign trade corporation. The corporation's main business is machinery export, include construction machinery, crane machinery, mining machinery, etc. We supplies Tunnels Construction Machines for sale and we have exported Tunnels Construction Machines to many countries.
Contact E-Mail : sales@bossbuyer.com
Relative Products

How to Contact Us
Email: sales@bossbuyer.com
Skype: bossbuyer
Market Hotline
0086-21-61435-919
Service Hotline:
0086-21-61435-919