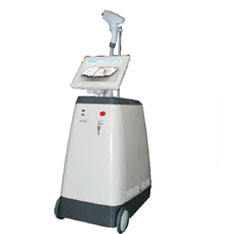 Diode laser equipment
940nm & 808nm wavelength effectively penetrates deeply into the skin and is absorbed by the target chromophore. The adequate pulse duration, energy density and epidermal cooling ensure an adequate thermal damage to the target tissue without damaging the surrounding tissue to achieve effective hair removal.
Germany 940nm & 808nm Diode Lasers device, Max output power 600W (500W,400W,300W optional.)
10Hz frequency output and 12mm*12mm spot of the equipment enhance the treatment efficiency.
Low cost and less maintenance expenses.
940nm diode laser handle optional.
Inner cooling system ensure long working time.
More than 20,000,000 shots ensure longer lifetime than other hair removal machine
BossBuyer Co.,Ltd is a specially authorized foreign trade corporation. The corporation's main business is machinery export, include construction machinery, crane machinery, mining machinery, special doors, beauty equipment etc. We supplies Diode laser equipment for sale and we have exported Diode laser equipment to many countries.
Contact E-Mail : sales@bossbuyer.com
Relative Products

Contact Us
Email: sales@bossbuyer.com
Skype: bossbuyer
Market Hotline
0086-21-61435-919
Service Hotline:
0086-21-61435-919