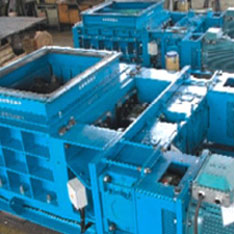 Roll Sizer
BossBuyer produce a series of Roll Sizers attaining maximum throughput rates of up to 5,000 t/h, crushing material with a maximum feed size of approx. 1,700 mm. The Roll Sizer is capable of crushing medium-hard rock as well as sticky and soft material such as coal, clay, marl, limestone and similar raw materials. The Roll Sizer attains a crushing ratio of 4:1 up to 6:1 and produces a clearly defined product size with a low oversize fraction. It is suitable for primary as well as secondary crushing up to a final product size of less than 50 mm.
The material to be crushed may be fed to the Roll Sizer either continuously or discontinuously. The material is crushed by shear and tensile forces being generated by high torques at a low circumferential speed. Because of that, the specific power consumption, the wear rate and the fines content in the finished product are considerably lower than with other crushing machines.
The type of crushing tool and fastening system employed depends on the application. The segments are exchangeable resp. partly interchangeable. An easy handling and a high wear resistance are guaranteed. Due to the specially arranged crushing teeth the material is drawn in the best possible way and maximum point load crushing forces are achieved. This leads to a more effective use of the drive power.
Important advantages of the Roll Sizer:
Compact and flat design
No special foundation required due to low foundation load. The crushing forces are fully absorbed by the Roll Sizer housing. Only the inertial forces are to be supported by the foundation.
High throughput rates at low operating costs.
Modular design. Depending on the application, the roll length of each Roll Sizer varies. The housing is designed symmetrically.
Low wear rate and easily exchangeable crushing tools being crushed.
BossBuyer Co.,Ltd is a specially authorized foreign trade corporation. The corporation's main business is machinery export, include construction machinery, crane machinery, mining machinery, special doors, beauty equipment etc. We supplies Roll Sizer for sale and we have exported Roll Sizer to many countries.
Contact E-Mail : sales@bossbuyer.com
Relative Products

Contact Us
Email: sales@bossbuyer.com
Skype: bossbuyer
Market Hotline
0086-21-61435-919
Service Hotline:
0086-21-61435-919