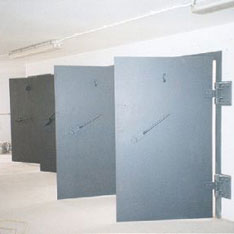 Special Doors
Used for interiors and for exteriors, special doors fulfill unusual requirments. Fire resistance, smoke containment, radiation protection and resistance to weapons fire require special door leaf constructions and special purpose fittings. Fire-rated, anti-instrusion and sound insulation doors have special multi-layered, glue-laminated cores. If flush doors are constructed specially as sound-insulating doors, sound-absorbing doors and fire-rated doors, care should be taken that all of the materals, fillers and fittings meet the extra requirements. Special doors with different primary functions can be combined to crate multi-functional doors. These doors, usually constructed as whole door units, can combine fire, smoke, noise and intrusion protection, as well as suitability for a wet environment. The door's appearance is affected by these requirements and particularly by the corresponding fittings, such as automatic door-closing devices and panic locks, or frames with suitable hinges depending on th manufacturer. If this is not to restrict design choices, the designer must have knowledge of these doors specific requirements.
Types of Special Doors
BossBuyer Co.,Ltd is a specially authorized foreign trade corporation. The corporation's main business is machinery export, include construction machinery, crane machinery, mining machinery, special doors, beauty equipment etc. We supplies special doors for sale and we have exported crane to many countries.
Contact E-Mail : sales@bossbuyer.com
Relative Products

How to Contact Us
Email: sales@bossbuyer.com
Skype: bossbuyer
Market Hotline
0086-21-61435-919
Service Hotline:
0086-21-61435-919