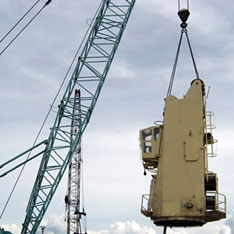 Deck crane
The deck cranes are in high quality and can load and unload flexibly. deck cranes mounted on vessels for handling cargo and containers in harbour conditions. The deck cranes is in easy,safe,reliable operation and can bear long term working time and idle time. Sufficient consideration for maintenance,technology, design makes easy maintenance, minimum maimtennace and idle time is the shortest.
Located on the ships and boats, these are used for cargo operations or boat unloading and retrieval where no shore unloading facilities are available. Most are diesel-hydraulic or electric-hydraulic.
BossBuyer Co.,Ltd is a specially authorized foreign trade corporation. The corporation's main business is machinery export, include construction machinery, crane machinery, mining machinery, special doors, beauty equipment etc. We supplies Deck crane for sale and we have exported Deck crane to many countries.
Contact E-Mail : sales@bossbuyer.com
Relative Products

Contact Us
Email: sales@bossbuyer.com
Skype: bossbuyer
Market Hotline
0086-21-61435-919
Service Hotline:
0086-21-61435-919