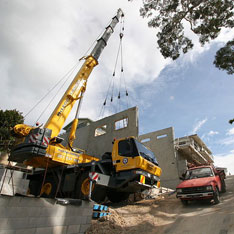 All Terrain Crane
As the name suggests, all-terrain cranes can manoeuvre through rough terrain as well as public roads with ease. These cranes are technologically the most advanced of all the mobile cranes. They come in both lattice-type and telescopic-type boom options. All terrain cranes that are ideal for both on and off-road construction and industrial projects. Regardless of the location, temperature or climate, all-terrain cranes are just as reliable in bold new development projects as well as in meticulous maintenance operations on historical landmarks.
All of the all-terrain cranes feature FAUN purpose built frames with two-man, full width carrier cabs of composite structure (steel sheet metal and fiber glass), windshield of laminated safety glass with windshield wipers and washers, sliding side windows of hardened safety glass and adjustable seats with safety belts and headrests. Safety devices include electronic load moment device and automatic overload shut-off, hoist limit switch with shut-off, overload warning and load moment gauge. Digital displays show boom angle, boom length, sheave height, working radius and hook load.
BossBuyer Co.,Ltd is a specially authorized foreign trade corporation. The corporation's main business is machinery export, include construction machinery, crane machinery, mining machinery, special doors, beauty equipment etc. We supplies All Terrain Crane for sale and we have exported All Terrain Crane to many countries.
Contact E-Mail : sales@bossbuyer.com
Relative Products

Contact Us
Email: sales@bossbuyer.com
Skype: bossbuyer
Market Hotline
0086-21-61435-919
Service Hotline:
0086-21-61435-919